Six super high resolution (10MP) free photographs of blue Caribbean skies.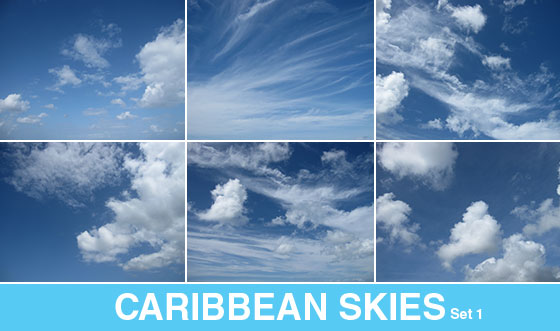 I went on vacation to the sunny Caribbean a few weeks ago. We started in Barabados and travelled around 10 different Islands. It was fantastic. Anyways, during my travels I took lots of scenic photos. Here's a set of beautiful blue Caribbean skies with fluffy white clouds. Download the free photos and use them for your personal or commercial work.
The download contains 6 high-resolution photographs. Each photograph is 10 Megapixels (3648 x 2736 pixels). The photos were taken with a Canon Powershot SD880 IS (IXUS 870 IS) and they haven't been edited in any way.
Cool, how can I use the download?
You can use the downloads for personal or commercial projects
You may not offer items created with Patternhead files for resale. That includes, but is not limited to scrapbooking, apparel, web design themes, t-shirts, business cards, greetings card, stationery, posters, flyers etc. in both physical and digital formats.
A link back here would be appreciated but it is not required
You may not sell or redistribute the downloads in any way, shape, or form
You may not create derivatives of the downloads for resale or distribution
Visit the License and usage info page for full Terms and Conditions of use
Do you like this set? Want to see more? Let me know in the comments.