This tutorial is going to show you how easy it is to fill custom shapes with repeating patterns in Adobe Photoshop. I'm using CS3 for this tutorial but it should work in any recent version.
You can have some real creative fun with Photoshop and repeat patterns. As with most things, there's lots of different ways to use patterns in your own designs. For this tutorial, I'm going to show you how to take a repeat pattern, add it to the Photoshop pattern library and then use it to fill selections.
1. OPEN YOUR PATTERN FILE
For this tutorial I'm using one of the free patterns but you can use any pattern as long as it repeats on all sides.
In Photoshop, Click the File menu and choose Open.
Select the pattern file you want to use and open it.
2. DEFINE A CUSTOM PATTERN
Click the Edit menu and choose Define Pattern
Give your pattern a name and click ok
You've now defined a pattern that you can open and use in any future design that you create. How cool is that?
3. CREATE A SELECTION
Click the File menu and choose New
Choose a file size (I'm using 500px by 300px but you can choose any size.)
Use the elliptical marquee tool to drag a circular selection
4. FILL YOUR SELECTION WITH A PATTERN
Click the Edit menu and choose Fill
In the first dropdown box choose Pattern
In the second dropdown box select the pattern you want to use. You'll probably have to scroll to the bottom of the list
When you're done, the option window should look like this…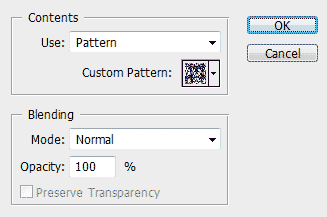 Click the Ok button to fill your pattern. It should look something like this…
CONCLUSION
This tutorial has only just scratched the surface. You can do so many things with patterns in Photoshop. For example, use the pen tool to create custom shapes then use layers, masks and blend modes to get impressive effects. You can also fill vector shapes and adjust the scale and transparency of the patterns. I guess we can cover some more complext stuff in future tutorials. Have fun.